I am using the Original Brush Grubber and the Shrub/Clump Grubber to remove alligator weed and small trees from my pond.  Their root balls are hundreds of pounds of mud and root.  Using your products I am winching the plants and root balls onto shore with ease.  I am also pulling up 3" diameter wax myrtles by the roots from dry ground.  I really like the brush grubber products.  They are well designed, rugged, and are much more effective than I imagined.  Thank you for making great products.
By Steve
---

This is a great tool for pulling brush and pricker bushes. Some of the prickers in CT have roots that spread out 20 feet in all directions. The brush grubber's teeth lock on and do not let go until the bush and roots are out of the ground. I have a bad back with 4 surgeries in the past and I can easily use this to clear brush with no strain on myself. It's very well made and looks like it will last for many years. I've cleared a few acres of nasty pricker bushes and it's still looking and working like new.
By Mark
---

I bought one of these Brush Grubbers today at Tractor Supply.  I brought it home and went straight to work with it.  I LOVE IT!!  In an hour we cleared out a section that has been a forever problem with saplings.  I pulled stuff up within the full advertised range of the device with my John Deere 770 and it never missed.  I will be buying more of your products for use around the farm for certain.  Nice job!
By David
---

I received my new Brush Grubber HD this afternoon and had to try it out . I put the tool on this large sumac tree and with one easy pull the tree came out with a six inch root attached. I am impressed . I use the original for many of the smaller trees and it works fine also.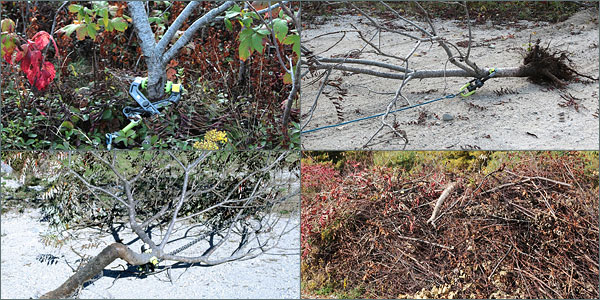 By Darrold D. from Franklin, ME
---

I received the brush grubber tools today.. .awesome. I am a fanatic about quality tools. I have a huge assortment of Snap-On tools for my shop, a Allis Chalmers tractor etc. etc. Your products rate very high on my list and I would recommend them to anyone. Up here in Washington state, county, Mason we have a huge problem with scotch broom; an evasive specie brought in by the state in the 1970's that takes over everything unless pulled out by the roots and burned. The brush grubber pulls this stuff like no-bodies business. And it's hard to pull..very hard. It is so effortless with the brush grubber, I'm tempted to call it child's play. The metal handled version is perfect for my wife and I grab the bigger bushes with the fiberglass handled version. Wow, I'm totally impressed. Can't wait for the weekend to try the HD version with my tractor and also our Honda Quad.
By Dan J. from State of Washington
---
I had to write you all a note to let you know just how much I love my new Brushgrubber! I got the BG-02 as a Christmas gift, ( I know, weird especially for a chick, but I love working in the yard, so gifts like this are welcomed- even over jewelry, ok, maybe not jewelry….).

We live on a couple of acres here in Atlanta, and have a steep hillside off our front yard, which is filled with hundreds of saplings, mostly Poplar, that grow like weeds! They have taken over the slope, which we want to clear and plant with wildflowers and some other things. You can't pull these suckers by hand; when they get bigger, the root systems really get down deep, despite our drought! We've weed-whacked them, used the chainsaw on some of them, but they grow right back and look terrible.
We were watching Walter Reeves on the Georgia Gardener on our PBS station, and there it was- the BrushGrubber! He gave the product rave reviews, so it found its way under my Christmas tree!
Thanks for making such a great product that even a 5'4" gal can use easily!
By Brush Grubber Lover from Georgia
---
I purchased the BG-08 on Friday 10-17-2008 and used it the next day. My girlfriend, running the bobcat, and me hooking up the tool were able to pull out 125 buckthorn trees in four hours. This tool is fantastic!!!!!!!!!!!!!!!!! By Rick from MN
By Rick from Minnesota
---
"Very rugged tool that PERFORMS AS ADVERTISED. Attaches to trees/brush in seconds. I have pulled small trees larger than the advertised 3" diameter and it has not failed me yet. Simply pull the tool open, place on tree/brush, hook w/chain and pull. DONE! I'm a very hard man to please but I must say, the Brush Grubber pleases me! It works."
By TJG3 from Western Pennsylvania
---
"Have not had a chance to use it yet, but it is a great idea. It should save a lot of time and frustration over wrapping a chain or rope around brush. It seems solidly built with spring loaded jaws to make setting in place a breeze."
By Weagle from Atlanta, Ga.
---
"The Brush Grubber saves me much time and backbreaking labor on my farm. Instead of having to ready and haul a chainsaw into the fields to cut brush from the fencerows, whenever I can spare the time, only to have the brush grow back in months, I can keep this small tool in my toolbox with a small chain and jerk the brush out, roots and all, every time I pass by and see some - no matter what implement I have attached to the tractor, and without haveing to make a special trip. It is so easy to maintain fence rows in a clean condition now that I cannot see how I lived without it before."
By genehopper from Alabama
---